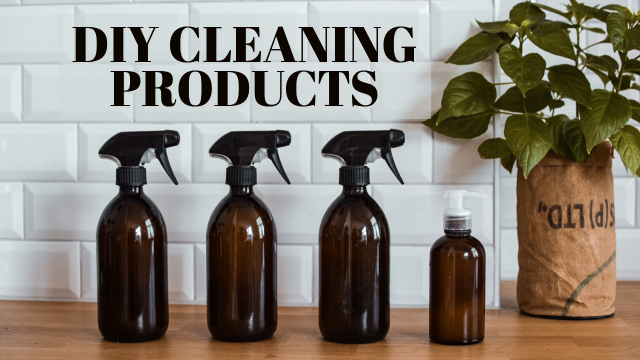 Cleaning is on everyone's priority list these days. Maintaining a germ-free home is especially important in today's climate, to keep you and your family safe, happy and healthy. 
Today's empty shelves makes getting your normal cleaning products more difficult than ever, so we've found some good tips on how to make natural DIY disinfectant cleaners. These "green" cleaners are a great way to clean your house in a safe and non-toxic way. 
DIY Disinfectant Spray
"For a household cleaner to disinfect, you'll need to have at least one active ingredient. This can include vinegar, rubbing alcohol, grain alcohol, or bleach. Using one of these ingredients will make sure that you're really getting rid of all those germs. Other ingredients are added in a lot of these recipes to enhance the cleaning power and make it smell great."
Option 1
Supplies:
1 cup water
1/4 cup distilled white vinegar
20 drops of desired essential oil
Directions:
Combine all ingredients in a glass spray bottle and shake well.
Option 2
Supplies:
1 1/4 cup water
1/4 cup white vinegar
1/4 cup vodka
15 drops of essential oil
Directions:
Pour all ingredients into spray bottle and shake to ensure they are combined. Spray on any surface and let sit for about 10 minutes to allow the disinfectant properties to work. 
Option 3
Supplies:
5-10 drops lavender essential oil
30 drops tea tree essential oil
3 ounces ethyl alcohol, 90%+ (180+ proof) or 91%+ isopropyl (rubbing) alcohol
1 ounce witch hazel
¼ teaspoon Vitamin E oil (helps soften hands)
Directions:
Add oils to a bowl and mix. Once combined, add alcohol and then add mixture to witch hazel. Transfer to spray bottle and shake before use. 
—
DIY Hand Sanitizer
Hand washing with soap and water should always be your first choice, but for those times when soap and water are not available, hand sanitizer is a good alternative. "The CDC recommends using a hand sanitizer with at least 60% alcohol, so it is EXTREMELY IMPORTANT that you pay attention to the isopropyl alcohol you are using and use the right percentage along with using the right ratio of other ingredients with it. The ratio used in this recipe is only good if you are using 91% isopropyl alcohol (or higher)."
Option 1
Supplies:
3/4 cup 91% isopropyl alcohol
1/3 cup glycerin (or aloe vera)
20 drops essential oil (optional)
Directions: 
Add ingredients to a bowl and whisk together. Pour into bottles. Let sit for a minimum of 72 hours so the sanitizer has time to kill any bacteria that might have been introduced during the mixing process.
Option 2
Supplies:
2/3 cup 99% rubbing alcohol (isopropyl alcohol) or ethanol
1/3 cup aloe vera gel
8 to 10 drops essential oil (optional)
Directions
Simply mix the ingredients together and then use the funnel to pour them into the bottle. 
Option 3
Supplies:
2/3 cup isopropyl alcohol (70%-99%)
1/3 cup of aloe vera gel
Directions
Mix alcohol and aloe vera gel to make your own hand sanitizer. The hand sanitizer needs to "sit on your skin" for at least 30 seconds to completely disinfect.
And while it's easy to think of areas like counters and sinks as germ magnets, don't forget about the other often used, well-trafficked areas of your house!
Common areas requiring disinfection:
Sinks
Countertops
Cabinet Pulls
Refrigerators
Small Appliances and Kitchen Tools
Ear buds
Remote controls
Cell phones, tablets, gaming controllers, and key boards
Switches & doorknobs
Towels, bed sheets and linens need to be washed in hot water several times per week.
Most often overlooked items that need to be cleaned:
Pet toys & feeding bowls
Keys, purses & wallets
Backpacks & gym bags
From all of us at Envicomply, we hope you all stay safe, stay healthy
and stay at home!
https://envicomply.com/wp-content/uploads/2020/04/tumblr_788f75487fd5c3388d6414e6043ceffd_01a972e0_640.png
360
640
mbrandt
https://envicomply.com/wp-content/uploads/2017/12/Envicomply-ECATTS.png
mbrandt
2020-04-03 09:51:58
2020-04-03 09:51:58
Stay Safe, Stay Clean, Stay Green: DIY Disinfectant Cleaners