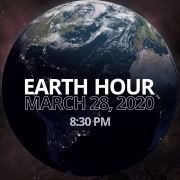 With all the uncertainty going on in the world right now, this year's Earth Hour gives us a good opportunity for a global, collective pause. A pause to reflect on the impacts our lives make on our planet, such as the increasing demands for food, water and energy. These all have a direct affect on our wildlife and our environment.
This year, Earth Hour encourages a time to "switch off." Turning off your lights for 1 hour shows a commitment to the conservation and protection of our earth. Although very much apart right now, this worldwide event can bring us together in spirit to show our support in saving our planet.
March 28, 2020
8:30 pm (your local time)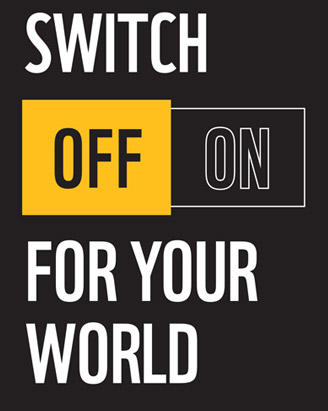 Learn more about this event from WWF and get some good tips of how to participate… in the dark!
Given the unprecedented circumstances, WWF advises participants to join Earth Hour at home or online following CDC guidelines. People can participate in Earth Hour this March 28th at 8:30 pm local time by turning off their lights for one hour to show solidarity and support for protecting our natural environments. In the past, millions of people and places have participated. During these challenging times, it's more important than ever that we take a collective pause and use this time to reflect, evolve and strengthen our relationship with ourselves, with each other and with nature.

Here are some ideas you might enjoy while reflecting on your personal commitments to fighting climate change and protecting our forests, rivers, oceans, and wildlife. WWF designed these with current social distancing policies in mind.

Things to do in the dark

© Day's Edge Productions
 

Go 'green' in your living space with some indoor gardening projects.
Exercise your green thumb by making a terrarium, or create some Macrame Plant Hangers for herbs and succulents. If you're feeling adventurous, try branching out and creating a living plant wall (materials can be ordered online). Set yourself up for action beyond Earth Hour, and create a compost bin for your kitchen to reduce food waste at home.

Host a virtual in-the-dark dinner party for you and your friends.
Invite your friends to dinner via video chat to share 2020 environmental goals. Consider challenging each other to get creative with locally sourced ingredients where possible. Eating by candlelight adds to the ambiance!

Play some games.
Take a stab at one of WWF's Wild Classroom quizzes. You can also download WWF's free-flowing river app to learn the impacts of infrastructure on our world's rivers.

Work up a sweat. Exercise the body and mind by candlelight.
Gather your friends for a virtual candlelight workout. Try anything from an intense HIIT circuit to restorative yoga. In your cool downtime, reflect on ways you can bring your commitment to biodiversity and nature beyond Earth Hour.

Pamper yourself. Self-care is key.
Anxiety can be overwhelming sometimes, especially recently. It's important to prioritize self-care so that you stay relaxed, motivated, and energized to do the most you can for the planet and for society. Take a candlelit bath infused with essential oils and Epsom salts—making a conscious decision to relax will rejuvenate you.

Take a collective pause and reflect.
Earth Hour is a perfect time to think about everything you've already done to help the planet and brainstorm ways in which you can do even more. Create a vision board with your environmental goals, and think about practical ways to fulfill them.


To view the full article from WWF, visit https://www.worldwildlife.org/stories/earth-hour-in-an-uncertain-time?utm_campaign=earth-hour&utm_medium=social&utm_content=photo&utm_source=facebook&fbclid=IwAR3x17Lr3W4qWmldro_65XwGaLRqssUby_68wCaGDf6h849N6m6WKvrht6Q
https://envicomply.com/wp-content/uploads/2020/03/maxresdefault-e1585234573516.jpg
281
500
mbrandt
https://envicomply.com/wp-content/uploads/2017/12/Envicomply-ECATTS.png
mbrandt
2020-03-26 11:53:20
2020-03-26 11:53:20
"Switch Off" for Earth Hour this Saturday, 3/28