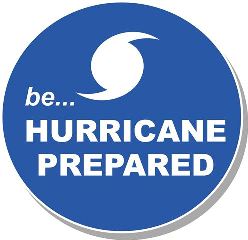 National Hurricane Preparedness Week, May 6-12, is a week long reminder to everyone that hurricane season is approaching. Learn ways to plan ahead for safety, evacuations, flooding, shortages, and cleanup.

Be ready before disaster strikes. And you can start by planning now. We've assembled some helpful hurricane preparedness tips to make your prep easier.
Here are a few reminders of how to plan and also what not to do:
DO:
1. Get your supplies:
Water (one gallon of water per person per day for at least three days, for drinking and sanitation)
Non-perishable foods (at least a three-day supply)
Batteries & flashlights
Battery powered radio
Baby items if applicable (food, diapers, formula, wipes, medications if needed, extra clothing)
Pet supplies if applicable (food, medicine if needed, extra cage, leash, collars & tags, medical records)
Cash
First Aid kit
Whistle to signal for help
Dust mask (to help filter contaminated air), plastic sheeting and duct tape
Moist towelettes, garbage bags and plastic ties for personal sanitation
Wrench or pliers to turn off utilities
Manual can opener for food
Local maps
Cell phone with chargers, inverter or solar charger
Phone numbers and contacts
Paper products (toilet paper & towels)
Pack bags with important records & information if you need to leave your home quickly
2. Refill prescription medications
3. Make an evacuation plan (if you have any pets, make sure to find hotels that will accept them beforehand)
4. Be informed and ready:
Learn your community's hurricane response plan
Register family members with special needs or requirements
Do NOT:
DON'T tape the windows – it does almost no good
DON'T run a generator indoors – carbon monoxide emissions are deadly
DON'T use a charcoal or gas grill indoors – carbon monoxide and fire risks are too great
DON'T walk in flooded waters – alligators, snakes, downed power lines, and sewage could be in the water
DON'T stay after an evacuation is ordered – rescuers may not come in the height of the storm
DON'T forget about your pets – they are part of your family too
For more details on hurricanes, planning and recovery, you can visit EPA's link on Natural Disasters.
https://envicomply.com/wp-content/uploads/2018/05/be-Hurricane-Prepared.jpg
240
248
mbrandt
https://envicomply.com/wp-content/uploads/2017/12/Envicomply-ECATTS.png
mbrandt
2018-05-08 08:16:39
2018-05-08 08:17:32
Did you know it's National Hurricane Preparedness Week?